09/26/2022
Hurricane Ian: 9/26
As of the morning update, 9/26/2022, from the National Hurricane Center, Ian has intensified into a Category 1 Hurricane with current wind speeds of 75 MPH moving northwest at 14 MPH.

Ian has begun rapid intensification and is projected to strengthen into a major hurricane late tonight into tomorrow morning.
Ian's track has shifted back to the east over the last 24 hours, with the path and intensity expected to continue to shift prior to landfall. If Ian keeps curving more towards the east, it could possibly make landfall somewhere along the Florida Gulf Coast as soon as late Wednesday. However, if it continues in a more northern direction, it may not make landfall until late Thursday or Friday in the Big Bend or Panhandle. A Hurricane Watch has been issued along the western coast of Florida.

However, Ian's path is still dependent on when and how sharply the system begins to make its turn to the north/northeast. Ian is expected to intensify rather quickly today through early Tuesday.
A State of Emergency was declared this morning.
Monitor local news stations for evacuations and closings
Review the following

We cannot stress enough that you must PLAN, PLAN, PLAN!!

Please review your storm/hurricane supply list and be prepared. Once the storm arrives, first responders cannot rescue you, you must be able to sustain your household for the first 72 Hours (3 days).

Below is the latest projected storm path.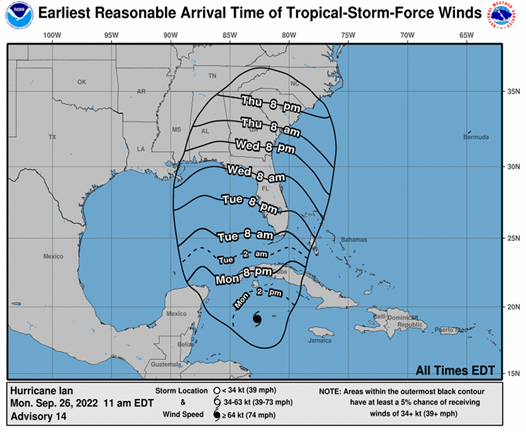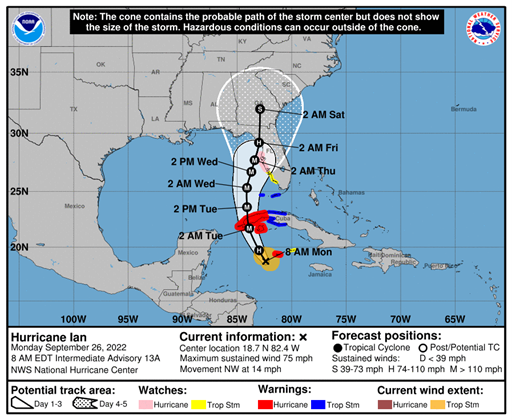 ---
Tallahassee Housing Property Hurricane Preparations
In preparation for the pending storm, you must remove all items from your front and back porches.

ALL items must be moved into your units this includes all toys, planters, furniture, garbage cans, etc.

BBQ Grills also have to be moved into the unit, BUT Propane and Gas CAN NOT be in the unit.


Please call the office with any questions at 850-385-6126.