03/09/2023
Orange Avenue Development Secures Phase 2 Funds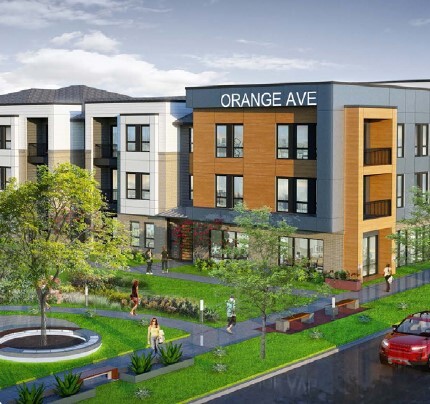 Article By Karl Etters of the Tallahassee Democrat on 2/14/2023
Please click here to learn more about Orange Avenue Redevelopment.
The Tallahassee Housing Authority has secured financing for the second phase of the Orange Avenue Redevelopment project, and, along with its partners, announced federal funding for a pre-K early learning center nearby.
Officials gathered to trumpet the continued expansion of the housing community and laud former U.S. Congressman Al Lawson's efforts that led to a $2 million federal grant for the educational center.
The complex, being built on the renovated site of apartments constructed there in the 1970, is envisioned as not only housing but an economic boon for South Tallahassee.
Phase one of the project, 130 affordable housing units, has been under construction for months but in January, the THA secured financing for the $44.95 million phase two, 160 units of which 80% will be aimed at attracting low-income residents.
A third phase, said THA Executive Director Brenda Williams, will be an elderly facility which the organization will seek state tax credit funding for near the end of 2024.
"This is the beginning of a transformation," Williams said. "Affordable housing is not about putting a roof over someone's head. It's about providing a foundation for a bright future."
Lorrane Ausley, the former state senator from Tallahassee who is the chair of the South City Foundation, also announced that the organization was able to secure $2 million in federal funding to launch an early childhood education center on the site of the old Wesson School.
The school, at the corner or Orange Avenue and Meridian Street, already operates several programs including an early learning VPK and Head Start.
Ausley said the plan was to secure a long-term lease with the Leon County School District to create the center and provide a pipeline to other nearby schools that run an International Baccalaureate program; Hartsfield Elementary, Fairview Middle School and Rickards High School.
"We know the interactions children have with caregivers and safe spaces impacts the rest of their lives," Ausley said. "What we are talking about is Herculean. It's going to take a lot of time and money, but it's worth it. Today is a big step."
Lawson said he was proud of the last-minute allocation he was able to secure before he left Congress. He sees the funding as a way to provide children living in South Tallahassee the same equity in education as others across the city.
Roughly 1,000 children live in the census block that would be served by the center.
"Little did I know that during my last days in Congress, in November, that we'd able to do some positive things to make a difference in the lives of these kids," Lawson said.
He recalled more than 30 years ago when he was on the board of the Tallahassee Chamber of Commerce and he pushed being more involved in early education.
"You ought to be concerned about those kids on the South side of town that they get the proper education and have the opportunity to be productive," he recalled saying then. "No matter where you go to school, no matter where you live, those kids are going to meet each other one day. And if they haven't had the opportunities that the kids on one side of town have had opportunity it's going to be a problem."